15 Amazing WordPress Instagram Plugins
: 6
Instagram presents another social network you can grow for driving qualified traffic to your blog. At the same time, it represents another way to communicate your message in a more engaged way with your followers. A double whammy when used effectively. Check out these 15 amazing WordPress Instagram plugins you can use on your website.
Do you want to back up all of your Instagram photos, so you have control of the images in case something happens to your account? The DsgnWrks Instagram Importer backs up your Instagram photos, and also displays them on your website as well.
While we never want to think about all the things that could happen to our images online, it is good to know that we have a plan in place in case something does happen. This plugin is a perfect combo of photo back up and image marketing in one.
This responsive design plugin is great for displaying your latest 20 images from Instagram on a rotating slider on your site. Installing the Instagram Slider Widget is simple; just include your Instagram username on the widget option. Then select if you want the images randomized and how often you want to update images from Instagram.
The Yakadanda Instagram plugin is great for pulling in images from either Instagram users or hashtags. This plugin helps you organize your image feeds based on your own pics or by topic. Display the images as a gallery or widget.
Widgets have two options. The first is to create an image widget, which is great if you are pulling in images from a specific hashtag. The second is the profile widget, where the feed is only from images for one user.
Enjoy Instagram plugin shows photos in a carousel. The cool part of this plugin is that you can display the images using shortcodes. In addition, the sliders operate in lightbox mode. Lightbox mode are the pop ups that most websites use for email sign ups. This lightbox will drive more attention to your Instagram account.
Display your Instagram photos on your sidebar, post, and/or page. With an easy shortcode generator, you can install your Instagram galleries wherever you want. Additionally, with multiple lightbox options, you can highlight your Instagram account to your website visitors.
This plugin only function is to create Instagram badges. Badges are the images on site to social networks. Using a plugin like Instagram Badges makes it easier to create a badge that can increase your connections on a social network.
As the name suggest, the Simple Instagram Embed plugin takes the Instagram embed codes directly out of the photo post link. This way you only need to copy and paste the photo URL link, and not the embed code found on the social network.

The Instagram for WordPress plugin allows you a number of different ways to display your photos on your sidebar. You can show your latest, tagged, or favorite photos. Alternatively, you can show yours or other users' feeds. The choice is yours.
With Simply Instagram, you can display your images via post, page, or widget area. The one difference with this plugin is that you will need to set up an API interface to connect Instagram and WordPress. For those who are less tech savvy, fear not. This process takes only a few minutes to set up, and no coding is required.

Unlike other plugins, which only allow you to embed or upload photos into WordPress, Instagrate to WordPress automatically turns your Instagram photos into WordPress posts. Great for those interested in WordPress automation, now you can have fresh content directly from Instagram.
This Instagram plugin works on your sidebar, post, and page. InstaPress works with just your Instagram username and password (as shown above). Choose the size and number of images you want displayed, as well as determining if the pictures title should be included as well.

Another option, if you want to use multiple Instagram accounts, and or hashtags. All you need to do is type in the name of the user or hashtag you want to use. They have widget and hashtag options available on WordPress. Easy Instagram lives up to its name.

This interesting plugin takes Instagram photos from the day and publishes them as blog posts on your WordPress site. You will need to set up an API integration to set up WP Instagram Digest, but a great way to automate your Instagram usage.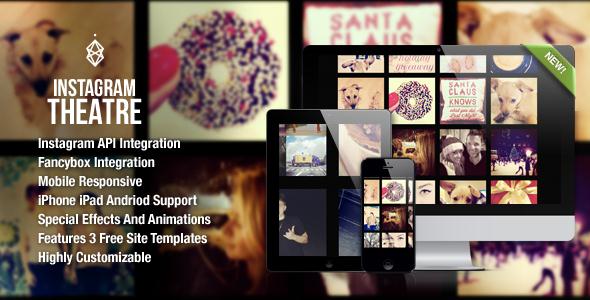 This premium plugin from CodeCanyon lets you customize your Instagram photos in numerous ways. First, you have grid, list, and full-screen layouts of your photos. Second, you pull images from usernames, hashtags, and popular feeds. With this plugin, you can also create custom Multi-user feeds for your Instagram images. The plugin is fully responsive, and requires API access to use all of the features.
Social Roll is another premium plugin from Code Canyon. While this premium Instagram plugin is like many of the other plugins out there, one thing separates the plugin. They have video support. Since video is still relatively new to Instagram, having video support for Instagram on your WordPress blog makes this an impressive feature to use.
As Instagram grows, video will be a larger part of the social network. Why not take advantage of this trend now with your social roll plugin.
Understanding How to Use Instagram on WordPress
Integrating Instagram with WordPress is about leveraging your traffic from both sites, while engaging your readers with improved visual content to keep them interested in what you do.
This means connecting with more Instagram users on your WordPress account, so they can follow you on the social network. Then using your blog as a means of continuing the relationship you started with current Instagram users.
Building a solid base like this takes time, but is well worth the investment when properly executed. Let us know in the comment section below, which of the Instagram plugins we discussed will help you be more success on WordPress?