Advanced Design & Uploading Tips
: 7
Designing & Uploading for:
Duvets
Standard, Tall, and Travel Mugs
Leggings
Graphic Tees
A-Line Dresses
Womens Chiffon Tops, Contrast Tanks, Graphic Dresses
Scarves
Hardcover Journals
---
Designing with a product in mind?
As the Redbubble community grows and expands, so do the product offerings! While new monthly releases means more variety, how does this affect your existing Redbubble designs or future works? Below is an article from our talented blog team about this very conundrum - just follow the link for a variety of tips regarding composition, patterning and sizing to make your designs look great on all of the lifestyle products.

Designing and Uploading for Duvets
Duvets through Redbubble are great, but huge - there is no escaping the truckloads of pixels needed to successfully print your work on them! To make reaching the required dimensions easier, there are a few handy tricks you can employ. The simplest way is to utilise our tiling feature, recently added to the Redbubble uploader. The blog post below will give you a step by step guide on using the 'Repeat' features (side-by-side tiling or half-drop tiling), especially for duvet covers.

We can happily confirm this feature is also available when uploading and editing Studio Pouches, Laptop Skins/Sleeves, Leggings, Mini skirts, Scarves, Drawstring bags, Spiral notebooks and Hardcover journals (with more to come!)
Another suggested technique for creating large scale works, particularly for use on duvet covers, is to make a repeat pattern yourself! Essentially here you'll be manually 'tiling' your design using a digital image manipulation program, but will have more control over the sizes and placement within the larger canvas. There are a few ways to create a repeat pattern (depending on what medium you're using), but the blog post below includes all the major steps you need to make your very own repeating pattern!

Designing and Uploading for Mugs
For single images consider repeating the image side by side. This will mean your design will be visible from both sides of the mug, and has the added bonus of putting your image front and centre on the preview page - pretty nifty, huh!
Because Travel & Tall Mugs have a slightly conical shape, being smaller at the base than at the top, a square image doesn't wrap around the sides as you may expect. As these two styles of mugs are tapered in shape they require a slightly different shape of image. Not to worry though - the fulfillers take care of all the mathematics for you by slightly adjusting your image when printing so that it looks great on the final product.
All you need to upload is a design that is standard in shape per the pixel dimensions found later in this article, and the fulfillers do the rest to ensure your design looks excellent on travel and tall mugs. You can see below the work the amazing production teams put into your image before it is printed to keep it looking great across all of your products.
Standard Mugs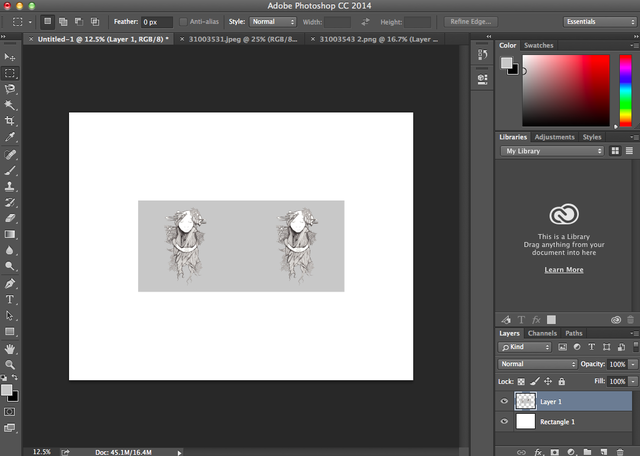 Tall Mugs - 27% Arc Warp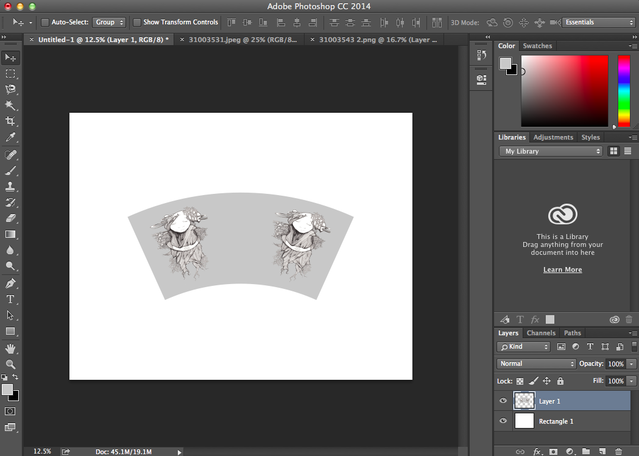 Travel Mugs - 16% Arc Warp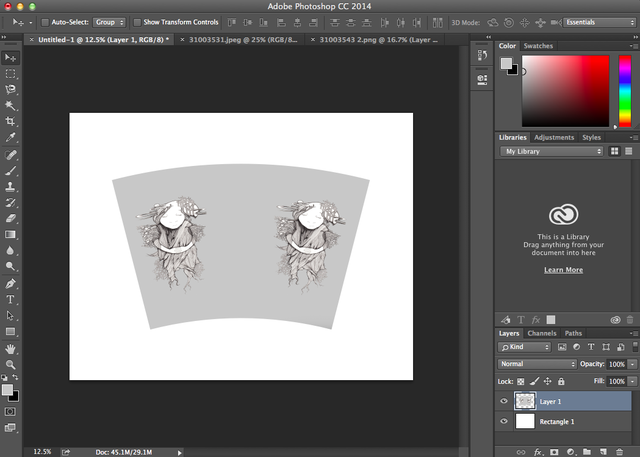 To make sure your awesome design is centred on both the front and back of standard & tall mugs, it is best to aim for your design to sit exactly 585 pixels from the right and left of the edge of the template seen below.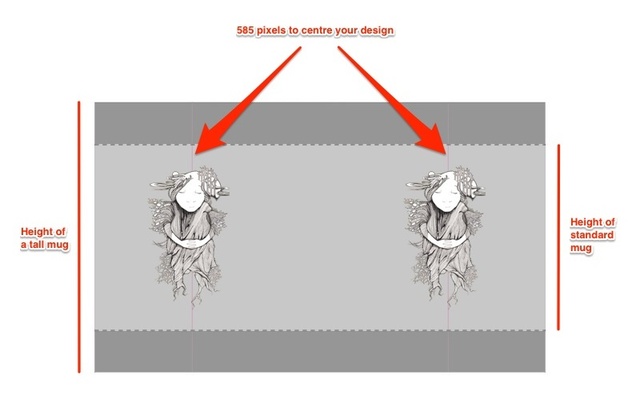 Tree Spirit by tiffanydow
For those who love to work from templates, you can check out our product templates before you begin your design. If you'd like some more advice or inspiration when designing for mugs, check out our insightful blog post below. It's full of useful tips, ideas and considerations for making mugs your own!

Designing and Uploading for Leggings
Unlike the wall art products found in the uploader tool (which is a more traditional rectangle or square) legging designs must fit around the human body, making for a unique design challenge!
Below you will find some helpful tips and tricks that will help you make the most of your designs on leggings. First, the basics!
Legend
If you ever lose your design file you can always come back and download it here

This button allows you to upload a file specifically for this product type

Allows you to pick a default colour and also customise the colour range available for your design

Reduces the size of your design by using the scale slider

Play with the centre design feature, either vertically or horizontally

This repeat feature allows you to tessellate your design, a great option for repetitive designs

Changes the markup % and product availability

Re-positions your design

Don't forget to save by clicking Apply Changes
Some examples of the repeat feature in action and ways you can design specifically for leggings (1 and 4 are made manually in photoshop, 2 and 3 use the repeat feature).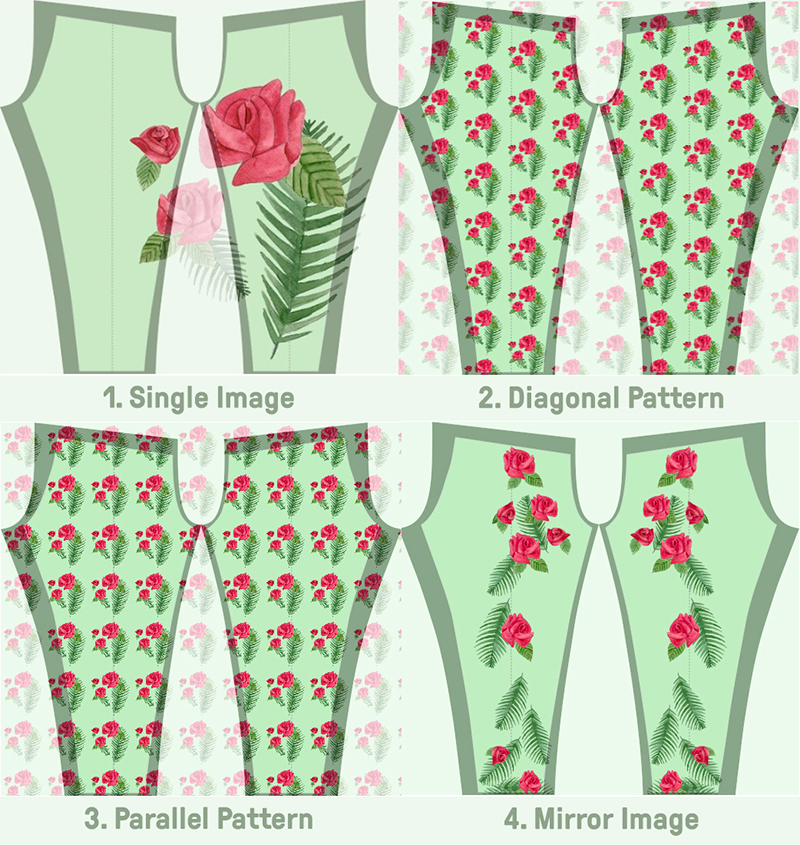 Tropical Rose by Danielle Wood
To help with your legging designs, we've created a helpful template which can be downloaded here. You can also check out our awesome blog post (below) which has a fantastic step by step guide on how best to use this template tool.

Designing and uploading for Graphic Tees
Graphic tees are printed on the entire front panel which is then sewn into the shirt. Because of this, the size of the available printing area will change based on the size you select.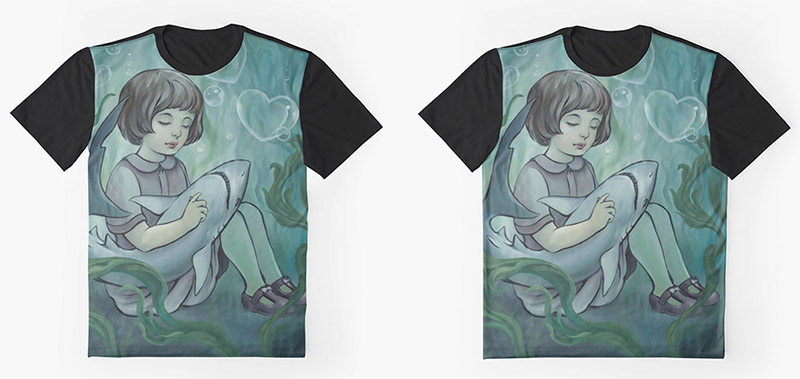 XS vs 2XL
Underwater Dreaming by Fioski
Graphic Tee template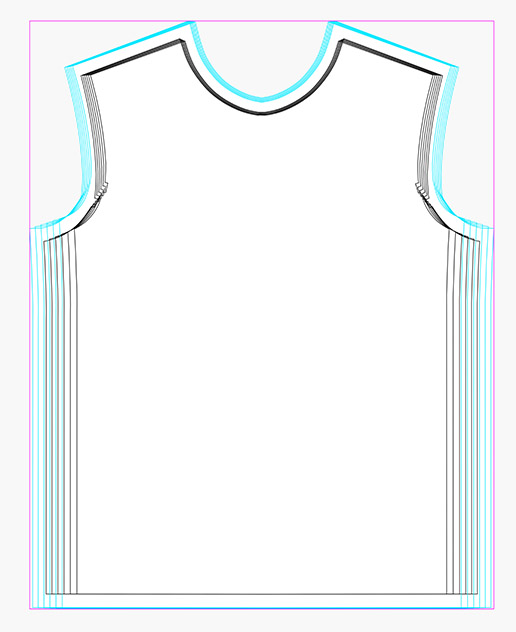 The black lines represent the proportions of the image once the t-shirt has been cut and sewn for sizes XS–2XL. The blue lines represent the required image bleed. The pink area shows the suggested area your design should cover.
You can see the dimension that varies the most is the width. We recommend designing your image to the 2XL (largest blue outline) but being aware that the smaller sizes will crop the image at the side seam.
Please note that due to the production process positioning on the actual printed t-shirt may not precisely match the preview.
Similar to the Graphic T-shirt Dress and Contrast Tanks, the A-Line Dress allows you to add work that covers the entire dress. Just upload one image and we will duplicate it for the back panel!
Some tips to keep in mind:
This style is almost like a triangle so a lot of your artwork will be cut off at the top of the garment. Keep this in mind when deciding which artworks to enable or think about ways in which you could alter your works to best suit this pattern shape.

Mind the possible unintentional white or blank spaces that could appear when you add your designs. Make sure your artwork fills up the entire available area (beyond the dotted lines) in the dress template (pictured below) with your designs.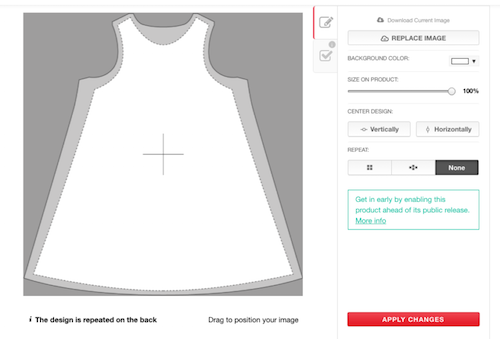 Designing and Uploading for Women's Chiffon Tops, Contrast Tanks & Graphic Dresses
Similar to the Graphic Tees, the Chiffon Top, Contrast Tank and Graphic Dress garments print over the entire front panel.
Please make sure your artwork fills up the entire square including the checkered lines at the top and the bottom. This ensures no blank spaces when your work goes to print.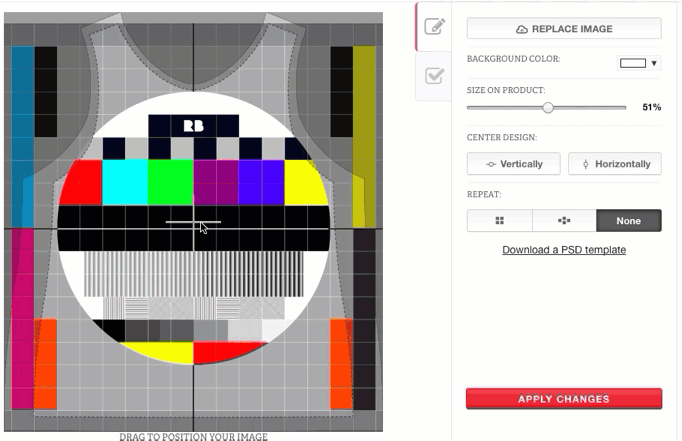 As the product line marketed on Redbubble continues to grow we're seeing an increasing demand for unique aspect ratios on designs which can't necessarily be pulled from existing products. To help with this we've created helpful templates for the Chiffon Top, Contrast Tank and Graphic Dress which can be downloaded here.
Designing and Uploading for Scarves
Scarves have stormed onto RB and are being wrapped, tied and draped in all kinds of fashionable ways by fashionable people. Creating a design that works well on these large scale and slightly sheer fabrics opens up some amazing creative options for those toiling with pens, paints, and lenses', so check out this rad post from our blog and be inspired to create something specifically for this trendy product offering!

Designing and Uploading for Hardcover Journals
Most Redbubble artists seem to be loving the new stationery range, especially the hardcover journals - they're perfect for a budding creative, or your mum who loves to keep lists. This product allows for some great customisations while uploading, including options to: print the same design on the front and back, use the 'repeat' tool to create a pattern or choose the 'wrap around' option which will fill the entire hardcover! Check out our blog post below for ideas and inspiration for your latest notebook design.

Of course, if you have any queries you can also write to our artist support specialist team for technical support and advice.